Wedding and Engagement
Are you looking for a halo style engagement ring?  I also work with a manufacturer that offers many different styles. Scroll through and take a look. Their embedded mark-ups are negotiable, so be sure to email me the style number you are interested in as well as the specs for the center stone. I will negotiate a better price for you.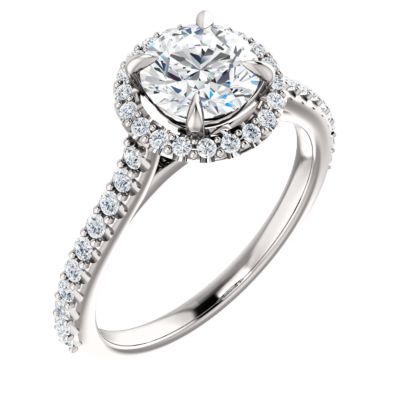 halo style engagement ring, wedding rings, diamonds, best diamond prices, engagement rings
Estate Jewelry:
Are you interested in estate pieces of quality? Many of these pieces are no longer in circulation and are a true find for any collector. I work with an estate buyer that specializes in signed work as well as many other unique pieces. The stock is constantly changing and it is strictly by appointment only. If you are interested please stop by the store or email me and I'll let you know if the item is still available. I have listed a few pieces below to whet your appetite. If there is something you have been searching for and don't see  let me know, there are many more items available than I have posted here.
Boucheron Gold, Diamond and Purple Gemstone Figurine Tassel Necklace

Tiffany & Co. Tourmaline and Black Onyx and Diamond Earrings

Buccellati Oval Sapphire and Diamond Earrings

Bochic Mother of Pearl , Turquoise and Diamond Earrings

Emerald Cut Diamond Line Bracelet     34D=35.13cts (8-GIA) E-G VVS-VS

Cushion Cut Yellow Diamond Bracelet   49.60cts

Pear Shape Fancy Yellow Diamond Drop Earrings
Gold and Rose Cut Diamond Hoop Earrings

Bochic Rose Gold and Diamond Earrings

Bi-Color Tourmaline and Diamond Dangle Earrings

Faceted Diamond Bead Dangle Earrings, 10D=22.00cts app + D=0.68cts app
Faceted Black Diamond Bead Dangle Earrings
Round Brilliant Cut Fancy Dark Brown-Greenish Yellow Diamond Ring 14K WG
Oval No Heat Padparadscha Sapphire Ring,  S=5.01cts (GIA) + D=1.48cts

Cushion Cut Ceylon No Heat Sapphire Ring,  S=16.45cts (AGL) + D=1.87cts

Dunay Black Opal & Diamond Necklace, O=35.99cts + D=10.50cts

Bochic Carved Jade and Diamond Pendant on Brown Velvet Cord

Black Opal, Diamond and Ruby Pendant on Black Cord

Harry Winston Emerald Cut Diamond Ring
D=5.03cts D IF Type lla(GIA)+D=0.70cts
Natural Fancy Brown-Pink Diamond Ring
Plat & 18K (17.5 x 10.5mm)
D=6.32cts NFBP VS2(GIA) + D=1.00cts
Cartier,  Harry Winston,  Bochic, Padparadscha, Sapphire, Black opal, natural yellow diamonds.